5-split rule: This law is associated with making illegal subdivisions. Breaking the law is a Felony in Arizona. A single property owner may not split any parcel into more than five smaller parcels. This law also holds for family members, and many other entities. The entity doing the split cannot collude with others to change titles, etc in order to get around the rule. A Real Estate Agent, Broker, Surveyor or even a Lawyer can get into big trouble by encouraging splits of adjacent parcels any more than five ways. Many other states have similar regulations.
Provision for splitting into larger parcels: Arizona Law makes special provisions for splitting when all parcels in a split are larger than 36 acres. When this is done, many provisions of the Subdivision Laws do not apply. Examples of divisions done in this way are Juniper Mountain Ranches, Shadow Rock Ranch and Sierra Verde Ranch near Seligman, Arizona.
Price per acre is normally quite a bit higher for smaller parcels than for larger ones when other factors are equal. That means that a lot that has been split may have an increase in overall value over the value it would have if sold all in a single piece.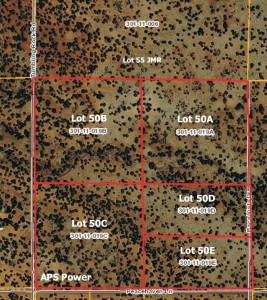 Here is an example that works.
 Lot 50 in Juniper Mountain Ranches has been split into five smaller lots — three 10's and two five-acre lots. All total, the lots price out at $105,000. Lot 55, immediately north of lot 50 is priced at $40,000. The quality of lot 55 is about the same as lot 50. Both lots are 40 acres in size and neither is a HOA (Home Owners Association).
This lot is a great split as it is quite close to a paved road. All the lots have usable ground with open meadows and nice trees. The C lot has on-the-grid power from APS and the B and E lots are close to the power, as well. A full section of Arizona State Trust Land is just north of these lots and adjacent to Shilo Road at Anvil Rock Road.
Splitting can be profitable for some lots but not others. The best candidates for lot splits are large lots where there is good access to favorable features:
* Proximity to desirable attractions such as lakes, rivers and mountains
* Proximity to national or state parks
* Proximity to the ocean, beaches, scenic vistas
* Proximity to hunting areas, public lands, national forests [read about the "checkerboard land pattern"]
* Availability of on-the-grid electricity [Arizona Power Service (APS) serves the Seligman area]
* Easy access to paved roads
* Good water area where wells are not too deep or too expensive
* Favorable terrain such as great views
* Good mix of open meadows and trees
Are there features that will still exist for the smaller lots?
* Some of the splits may not border state trust land or national forests
* Electricity may be too far away for some of the splits
* Road access may not be as good for some of the splits
* The terrain may not be suitable or amenable to splitting
Should I buy a lot because it can be split? You need to be careful about that.
* It may take a long time to get ALL of your smaller lots sold
* You may not profit until you get ALL the smaller lots sold
* You may not sell ALL the smaller lots at all
* Market conditions may not support sales of smaller lots
Please contact John Mosier for his opinion on specific situations.
If you are unsure you may need to seek legal counsel in order to protect yourself.