About Seligman Arizona
View a video tour that we made to introduce the Town of Seligman, Arizona.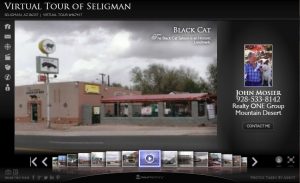 Seligman had its modern beginnings in 1882 as the Atlantic and Pacific Railroad laid tracks to what is now the town. The railroads were enticed and rewarded for laying track by the US government granting land in a checkerboard land pattern near where the tracks were being laid. I have written an article discussing the checkerboard land pattern and what it means to us today. Seligman was a prosperous town because of the railroads from around the time the railroads arrived until around the 1940′s.
It became prosperous again during the 1950′s as the first trans-continental highway, Route 66 was built. Seligman is known as the birthplace of Route 66. Cars did not go so fast at that time, so Seligman had quite a number of motels and restaurants to serve the traffic passing through.
The town suffered immensely when the Interstate Highway was built and bypassed the town.
The only prosperity the town knows now is because of the tourist trade. There is good hunting grounds in the abundance of the heavily treed Juniper Mountains west of Seligman. Nearly half of the land in the area is Arizona State Trust Land controlled by the Arizona State Land Commission. To the south is the Prescott National Forest and The Yavapai Ranch.